The 4th Annual Gerhard Sedlmayr Lecture was held in the ZAL on Thursday 29 June. Our lecturer was Dr Nicklas Dahlstrom, Human Factors manager at Emirates Airline. His lecture was entitled "Advancing Safety with Human Factors - Celebrations of Successes and Criticism of Shortcomings".
Despite competition with a key football match on the same evening we had a good audience who were treated to an exceptional lecture which they will not forget for a long time. Nicklas totally involved and teased his audience who responded with ever increasing enthusiasm. We all went away with an increased awareness of the impact on human factors in many aspects of everyday life and not only in airline operations.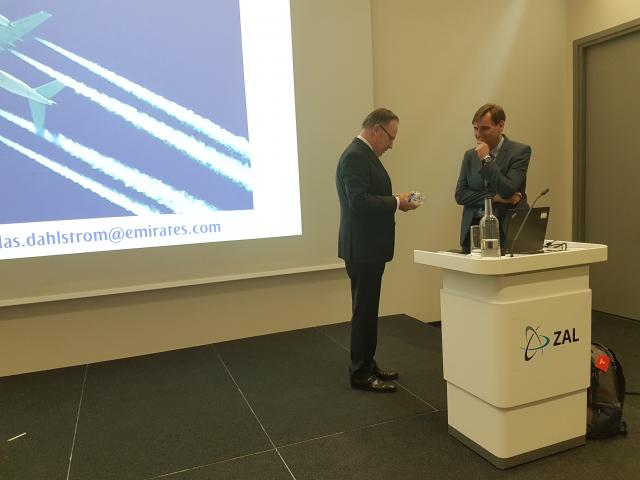 Nicklas Dahlstrom being presented with a bottle at the end of the lecture by Andreas Sedlmayr and trying to guess what was in the bottle. He didn't succeed - it was an A320!
Tragen Sie hier Ihren Kommentar zu dem Beitrag ein.
Die mit * gekennzeichneten Felder sind Pflichtfelder.
Folgende Kommentare wurden zu dem Eintrag abgegeben:
Wählen Sie die E-Mail-Adressaten aus.